VMware Security Hardening Guides and how to check compliance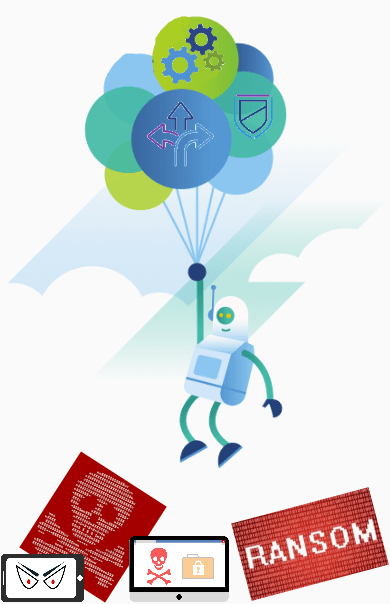 In times of Ransomware , security breaches and exploits it is more and more important to harden every layer of IT infrastructure. This blog post is about hardening options of VMware layers. I will describe the concept of the VMware Security Hardening Guides and how to check compliance with VMware Operations Manager.
What is VMware Security Hardening Guides about
VMware provides Security Hardening Guides for products like vSphere, NSX and Automation. Here, I will primarily talk about the vSphere Security Configuration Guide. It is available starting with vSphere 4.0 and changed over time. Latest versions are for vSphere 7.0 U3 and 8.0.
Basically the guide takes different design consideration into account:
System Design
Hardware Configuration
ESXi Hosts
vCenter
VM Hardware
Guest OS
Detailed discussion
For each of these categories, there are a variety of different parameters and considerations that are discussed in great detail. All aspects of a particular configuration setting are part of an Excel sheet. Where applicable, these topics are discussed:
Implementation Priority

Range is from P0 (important and should be changed from default) to P2 (default is secure and should be monitored).

Description and Discussion

What is the issue and why is it important?

Configuration Parameter

If it is about a certain parameter, here you can find which one it is.

Installation Default Value
Suggested Value

The shown value is recommended to raise security.

Action Needed

Modify: change the default value to the recommended.
Audit: monitor the value of the parameter to ensure the correctness of the setting.

Setting Location

Here you can find the object respectively the layer, the value needs to be set.

Potential Impact if Default Value is Changed

What is to expect when you change the parameter.

PowerCLI Command Assessment

Here you can see PowerCLI commands for querying values.

PowerCLI Command Remediation Example

Find PowerCLI Commands for changing values.

Now it should be clear how powerful this security guide is! There is not just a list of recommended values and settings, there are also arguments why you should set them and possible issues to consider when doing so. My personal highlight is, that – if applicable – the guide shows PowerCLI commands to view and change the parameters it discuss.
How to check compliance
To check compliance within your environment, you need to assess all layers of the guide and compare the current settings of each object with the guide's recommendations. This is not something you want do by hand, believe me.
A individual way is to use PowerShell with PowerCLI module. A simpler way is to use a tool for this job. Therefore I show here how to use VMware vRealize – new name: Aria – Operations.
Check compliance with VMware Aria Operations
With Aria Operations it is quite simple to monitor object settings. First you need to enable Security Configuration compliance checks. To do so, open Optimize and click on Compliance. Here you can enable Configuration Guide for vSphere, vSAN and NSX.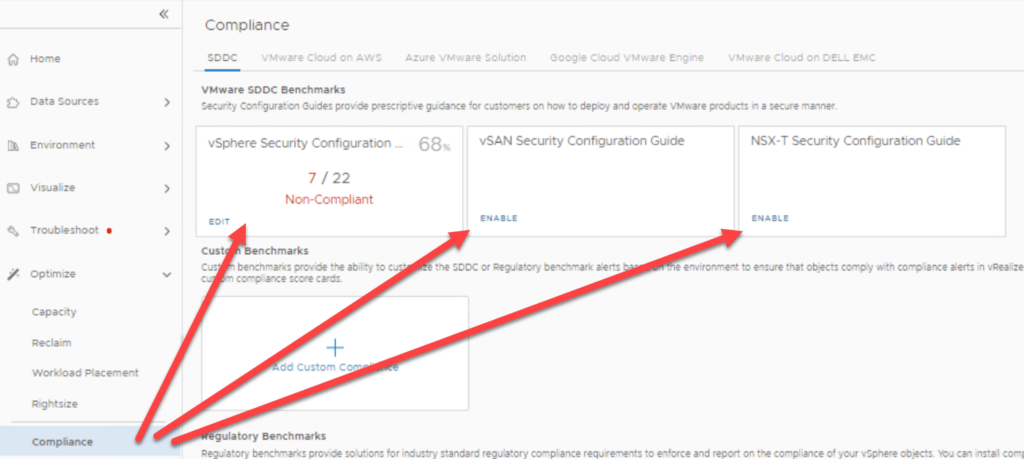 You have to select the policies you want the compliance checks attached.

System needs some time for the first assessment. Afterward you have powerful features to check compliance.
Compliance check using alerts
This kind of dashboard is situated in the Compliance section of Aria Operations. Group by Object Type to see non-compliant objects.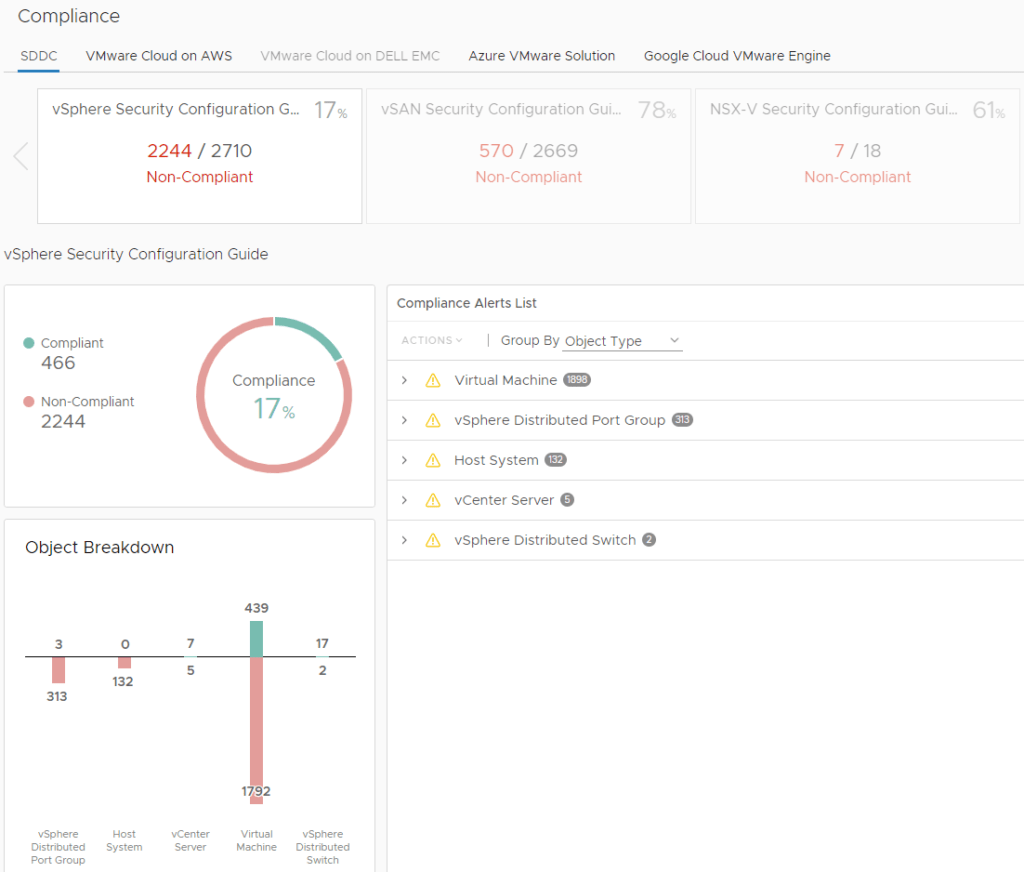 Compliance check using dashboard
There is a vSphere Security Compliance dashboard in Aria Operations. Although it is marked as deprecated, it still works.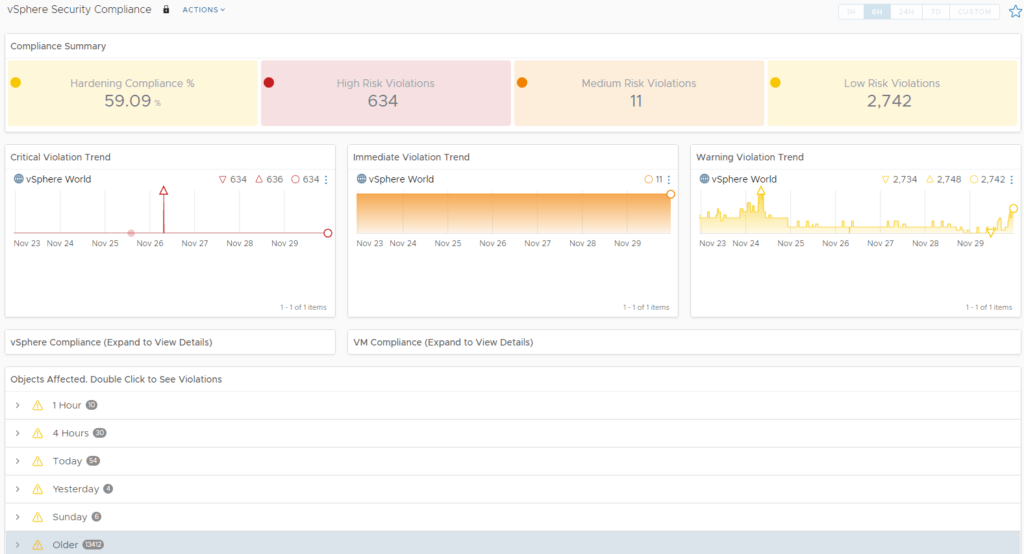 Compliance check using report
There are two report for in Aria Operations for Security Configuration Guides:
Compliance Report – vSphere Security Configuration Guide – Non-compliance
NSX Hardening Guide – Non-compliance Report
These reports show all objects that are not compliant. Also the settings itself that violates.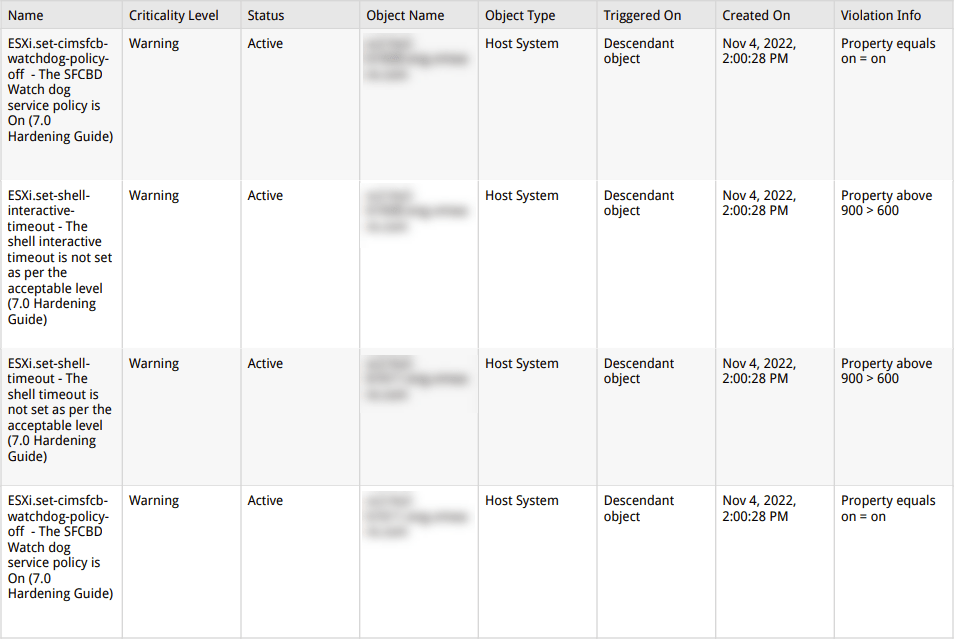 Notes