Mount HP Blade enclosure DVD on VMs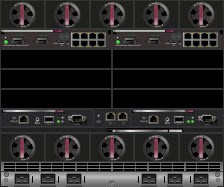 Mounting a HP BladeSystem enclosure DVD drive on a VM sounds easy. And it is, but it is not that easy as I thought first. Technically it is a USB drive for the host, but it is not possible to pass through the device as a USB drive. This post describes the steps to take for windows VMs (tested for Windows 2008 and 2012), but this should also work for other OSs.
To mount a CD/DVD into a VM
Insert disk in CD/DVD-Rom drive of Onboard Administrator (OA) module.
Use OA to connect enclosure DVD to blade server that is running ESXi host that is hosting your VM.
USB device should now be shown in Storage Adapter as USB Storage Controller in ESXi Configuration. The Controller is named like vmhba34. Identifier of the device is named like mpx.vmhba34:C0:T0:L0
Edit Settings of VM

Add SCSI Device
SCSI Device: CD/DVD HP
Virtual Device Node: I prefer to use an own virtual SCSI adapter for this device, so I select SCSI(1:0). Of course, this address must be unused!

Windows Configuration

Check for new hardware in Device Manager
At first connect, the device is shown as HP Virtual DVD-ROM SCSI CdRom Device under Other devices.
Install driver: Default CD-ROM driver

Browse my computer for driver software –> Let me pick from a list of device drivers on my computer –> Select Common hardware types: DVD/CD-ROM drives
Select Manufacturer: (Standard CD-ROM drives) and Model: CD-ROM Drive

Confirm Update Driver Warning

Browse your new CD-Drive
To unmount a CD/DVD
Especially the first step should be done to avoid a lot of path-errors in vmkernel.log.
Remove SCSI Device from VM
Remove Enclosure DVD from ESXi host in OA
USB Storage Controller should be removed from Storage Adapter in ESXi Configuration. If not Rescan/refresh Storage Adapter.
Optionally check vmkernel.log on the ESXi host to see if the device is removed properly.