NIC0 error in vCenter HA wizard

Recently I got the following a error on two different vCenter appliances when trying to enable vCenter HA. This is the NIC0 error in vCenter HA wizard:
Cannot find a network adapter for the vCenter Server management network (NIC0) on the vCenter Server Appliance guest OS. Once available, the first guest OS network adapter will be selected. Use Edit VM settings to add a network adapter.
This error appears at VCHA wizard when first pressing Next-button.
I tried:
Rebooting VCSA
KB article 2147932
Adding a second vNic – witch is only supported for VCHA!
I also found out, that network configuration within VCSA GUIs was not consistent. Network configuration in VCSA can be found here:
VCSA management (https-port 5480)
Networking –> Manage –> Network Interfaces
WebClient (Flash)
Administration –> System Configuration –> Nodes –> vCenter –> Settings –> Networking
In my cases, in VCSA management information about nic0 was looking good. But in WebClient, no information about a nic0 was available. Not even a nic0 was displayed.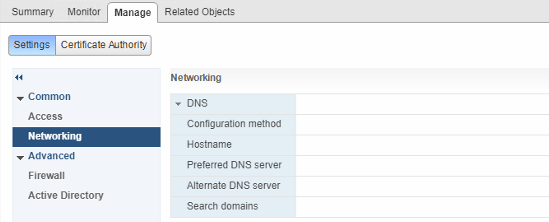 To resolve the problem I had to restart all services by running these commands in VCSA shell:
service-control --stop --all
service-control --start --all
As I mentioned before: rebooting VCSA did not solve the problem!