New in 3PAR SSMC 3.6: Topology Insight

A new – and badly documented – feature in StoreServ Management Console 3.6 is Topology Insights. Sounds first like the probably known Maps. But Topology View shows an end-to-end view: VM <–> VMDK <–> Datastore <–> Host <–> Virtual Volume <–> System. Enriched with performance-information! This short post is about this feature and how to get it.
How it looks like

When clicking any of the boxes, you see much more details of all boxes.
You can further use this view as a time-machine by moving the pointer at the top of the view.
How to get Topology Insight
Requirements:
3PAR 3.3.1
Service Processor (SP) 5.0.5.x
SSMC 3.6

Topology Insights is supported for at least medium deployment. But it also works for small deployments.
Configuration steps
Add your vCenter(s) to SP

Create an user in vCenter.
Clone Read-Only role an add read-only permission to this new user to vCenter level and children.
Add vCenter in SP

Login to SP (admin or hpepartner)
Edit System and go to Cross Stack Analytics and Add vCenter using new user



Prepare SSMC

Login to SSMC
Go to Settings –> Application –> Edit (appears when mouse pointer is near Application) –> enable:

Advanced Analytics
Topology View


Connect SSMC and SP

Select you 3PAR system in SSMC, pull down Action menu and select Set SP credentials. Enter admin-password (see Notes, when this does not appear).


Wait some time

You should give the system a few minutes. Do not start troubleshooting when not even a hour passed.
View Topology
In SSMC go to Virtual Machines – either by click on Show all or by adding it to default view in Settings –> Main Menu Compact View.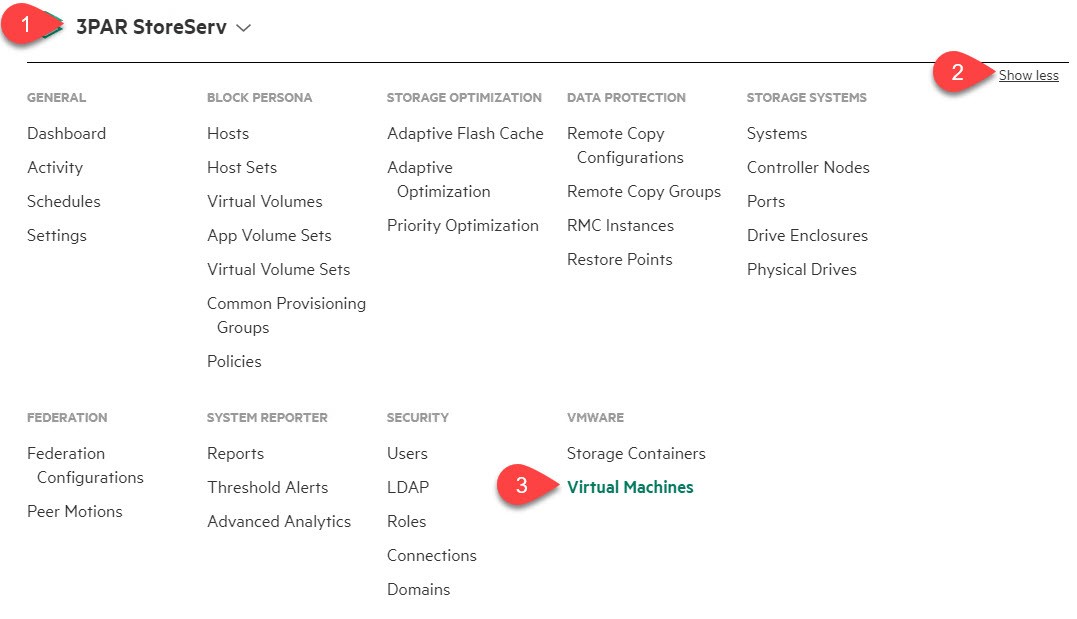 Now select a VM to analyse. Then select Topology in drop down menu next to VM name.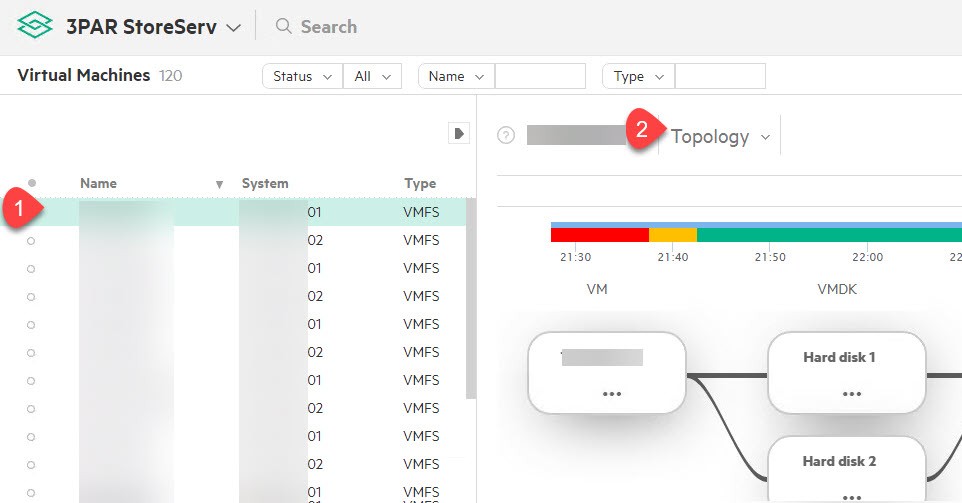 Notes
Topology Insights is on-premise. It does not need InfoSight!
When Set SP credentials does not appear in Action-menu, this could help:

Remove 3PAR from SP
Reboot SP
Add 3PAR to SP again

Works fine for RemoteCopy/Peer Persistence environments. But take care and select VMs on primary system for analyzing.