Get HPE Primera/3PAR metrics in vROPs 8.x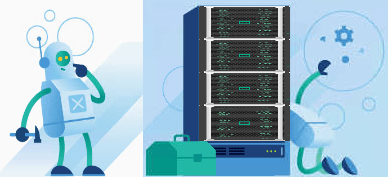 This post is about two cool and powerful products: VMware vRealize Operations Manger (vROPs) and HPE Primers/3PAR and how to combine them. This post includes current versions of both. Good and a bad news about costs: Bad first: vROPs free for a short period of time as trial. Good one: HPE Plug-In is free!
Version 3.7 of HPE Storage Plug-ins for VMware is the first that is supported for vROPs 8.x as you can see in VMware Compatibility Guide. At the moment of writing, link to Plug-in leads to an older version, so use the following description.
Download HPE Storage Plug-in for Operations Manager
HPE changed their download-location and it seems they try to consolidate all downloads. Go to: https://myenterpriselicense.hpe.com/cwp-ui/free-software to download necessary software and user guide.
Scroll down to Family VMware:

and press the download icon beneath Action
Sign in by using your HPE passport account.
At the moment of writing, version 3.7 is the current for HPE Storage Plug-ins for VMware. Don't let the printed release date and listed older versions of June 2019 mislead you, here is the current download! Press the Download-button.
Here you see a lot of software packages. When you search for 3.7, you get 3 hits:

HPE_STORAGE_PLUG_IN_FOR_VMWARE_VREALIZE_OPERATIONS_V._3.7_Z7550-02680.ZIP
HPE_STORAGE_PLUG_IN_FOR_VMWARE_VREALIZE_OPERATIONS_3.7_RELEASE_NOTES_P11744-003.PDF
HPE_STORAGE_PLUG_IN_FOR_VMWARE_VREALIZE_OPERATIONS_3.7_USER_GUIDE_P11745-003.PDF
Download at least the ZIP-file and unzip it – its the plug-in.
Install HPE Storage Plug-in for Operations Manager
Log into your vROPs cluster and go to Administration –> Solutions/Repository.
Scroll down to the section, where you can add/upgrade Management Packs. If you have already an older version of HPE Storage Plug-in installed (like HP StoreFront Analytics) you don't need to uninstall it.

Press Add/Upgrade.

Select unzipped .pak-file (HPESFA-3.7.0.503_signed.pak) and press Upload.

After upload you should see confirmation that PAK file is ready to install

"Read" and accept EULA and press Next to install.
Last window of wizard shows different steps of installation. There should be no error.

You should see now a new/updated tile

When its updated, you see the same number of accounts as before.
Add HPE Primera (or 3PAR)
Create a new user in your storage array. For Primera you can use the GUI that is provided on controller, for 3PAR you need to use SSMC. The role of the user should at least be browse.

To add a HPE Primera/3PAR to vROPs, go to Administration –> Solutions/Other Accounts and press Add Account and select HPE Storage Adapter


Fill in data


CIM-Port can be check in Primera by running showcim command

If CIM service is not started, run startcim.
Report Physical Disks (PD): by default, metrics of PDs will not be collected. For arrays with a large number of PDs metrics will produce a very large amount of data. Normally IO is distributed over all PDs within a CPG. In my opinion it is good practice to leave it false.
For connection, add your new Primera/3PAR user by pressing + at Credential.

Username is case-sensitive!
Test connection and add the system.

Get array metrics
With this Plug-In vROPs gets three new HPE Primera/3PAR dashboards:
Monitoring
Performance
Troubleshooting

When you navigate to Environment –> HPE Storage Plug-in for VMware vRealize Operations you see your array(s) and their components. When you selected to report PDs, they are shown there too.

You can select each component and show their metrics. When you want to see performance metrics of the system, select the arrays name and Metrics.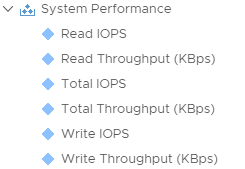 Notes
When you are looking for a end-to-end visualization for vSphere and Primera/3PAR, SSMC Topology Insight could be interesting too.
There is no CPU graph for controller nodes.
Currently I have the issue (3 times), all drive cages shows a health state of 75 and are therefore marked yellow with warning. I opened a support case for this.
[update] According to HPE support this issue is known in 3PAR OS 3.3.1 MU3 and MU4 and should be fixed in MU5. For Primera it is known for OS 4.0 and 4.1. This issue will be addressed within the next major update.
When you use RemoteCopy do not bother about alerts on copy link ports. Latency is very high there. This is no error situation and can be ignored! Also iSCSI Ports (even if no ports are installed) can be shown with warning. To workaround these two issues, you can do the following (if you know something easier, let me know):

Create a custom group and add all these ports.
Define a new policy that disables all warnings for iSCSI-Ports and latency on ports.
Apply this new policy to the new custom group.